Features
Newest version! (2023.10)
High quality heating chamber
Digital temperature control
LED display
Multi-functional
Simple to use
Who is the Arizer V-Tower for?
Those seeking a simple vaporizer guaranteed to produce quality vapour every session should definitely consider the Arizer V-Tower. It provides great results at a very affordable price and the simplistic design of this stationary vaporizer makes it an ideal option for beginners – yet the quality of its vapour makes it equally suitable for seasoned vapers too.
Precise Temperature Control
The Arizer V-Tower offers a wide selection of temperature options ranging from 50°C to 260°C to match with your herb of choice. It allows you to have precise control over the heating, meaning you can get the exact density of the vapour you want! You can also use this impressive temperature range for experimentation purposes, allowing you to identify the exact temperature you enjoy most without being forced to select from one of few pre-programmed temperature levels.
Value for Money
It's no secret there are certainly vaporizers out there with more elaborate features than the Arizer V-Tower, but if you're simply looking for a high quality vaporizer with no extras you won't get better value for money than this! You're able to enjoy great vapour regardless of temperature at a truly incredible price and won't have to spend money on features you probably will not even use.
Great Tasting Vapour
Due to its innovative design and heating methods, the vapour produced by the Arizer V-Tower is guaranteed to be dense and taste superb every time. The combination of its lengthy whip, ceramic heating unit and glass bowl ensures premium potency and flavour with every single vapour draw. The ceramic structure of its heating element also ensures no unpleasant metal-like tastes or toxins will inadvertently make their way into your vapour.
Automatic Shut-Off for Maximum Safety 
Falling asleep as a result of vaping isn't out of the ordinary. But if you accidentally snooze without switching-off your vaporizer, you could experience problems. However, the Arizer V-Tower boasts a handy auto shut-off timer specifically designed to keep you and your vape safe at all times. The automatic timer can be set to either a 2 or 4-hour setting and if the time is reached it will automatically shut itself off.
Warranty
The electronics of the Arizer V-Tower are covered by a 3-year warranty, while the ceramic heating element comes with a lifetime warranty.
User Manual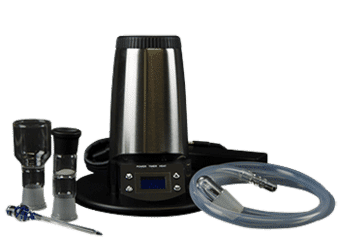 In the Box
Arizer V-Tower vaporizer
Silicone whip (90 cm)
Whip mouthpiece
Aromatherapy bowl
"Cyclone" glass bowl
Glass stirring tool
Screens
Power adapter
Instruction manual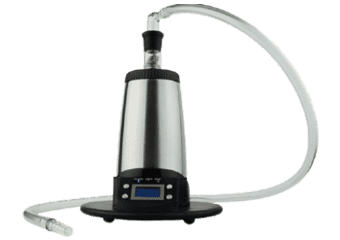 Specifications
More Information

| | |
| --- | --- |
| Size: | 15.2 × 15.2 × 19.0 cm |
| Weight: | 387 g |
| Heating: | Convection |
| Heat-up time: | 60 seconds |
| Power source: | Outlet |
| Temperature: | 50°C to 260°C |
| Manufacturer: | Arizer |
| Warranty: | 3 years |
| Country of manufacture: | Canada |
Write your own review about Arizer V-Tower