Features
Newest version! (2023.10)
20 second heating time
Isolated air path
Full temperature control
OLED digital display
Ceramic chamber with large capacity
Compatible with herbs & concentrates
Impressive battery life
Who is the Boundless CFX for?
If you're desiring a portable, simple-to-use vaporizer than gets the job done with no fuss, the Boundless CFX is the perfect option. This compact vape fits both beginners and pros as it has a high power capacity without being bulky or complex to use. It's easy to carry around and has a hugely impressive battery life which makes vaping everywhere both quick and easy.
Easy to Use 
The Boundless CFX is perhaps the most convenient vapes on the market and requires virtually no previous experience to successfully use. It functions perfectly well with small or large loads as no specific loading technique is required for optimal vapour production. The capacity of its impressively large ceramic chamber allows you to have longer sessions with no issues, yet is still versatile enough to operate just as efficiently with lighter loads.
Isolated Air Path
The isolated air path guarantee that the vapour always is separated from the inner electronics and leaves you only with pure flavours. The taste and quality of the vapour produced impresses and the entire inhalation process is seamless and easy – ideal for beginners.
Impressive Heating Time & Battery Life
The Boundless CFX is equipped with 80 watts of power and can fully heat up in just 20 seconds! The quick heat-up time allows you to get started almost immediately which allows for very spontaneous vaping sessions. You can get up to 15 5-minute sessions from a fully-charged battery.
Portable 
You won't be confined to your home when using the Boundless CFX as the compact size makes it easy to be thrown into a bag or large pocket when it's time to go somewhere. This vape has a lightweight feel and measures just 7 x 3.2 x 13 cm. It resembles a cell phone in appearance for a discreet nature and it also has a useful silicone coating to ensure it doesn't slip out of your hand or gets uncomfortably hot during a session.
Versatile with Total Temperature Control
The Boundless CFX is capable of vaporizing both herbs and concentrates with ease. Also included is a separate capsule specifically designed for concentrates. You have total control over this vape's temperature too which allows you to customize the vapour density to suit your preference. To match your herbs or concentrates you can choose any degree between 38°C and 221°C.
Warranty
All Boundless CFX vaporizers sold by MagicVaporizers, an authorised distributor of Boundless, are completely authentic and backed by a 2-year warranty.
User Manual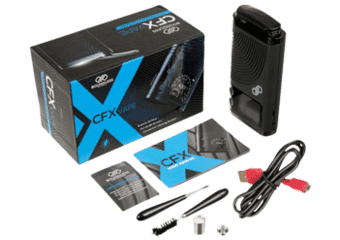 In the Box
Boundless CFX vaporizer
USB cable
Concentrate capsule
Stirring tool
Cleaning brush
Instruction manual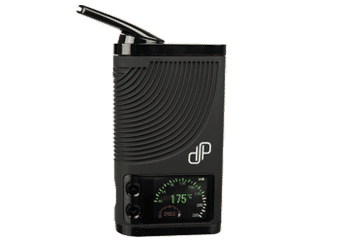 Specifications
More Information

| | |
| --- | --- |
| Size: | 7.0 × 3.2 × 12.9 cm |
| Weight: | 208 g |
| Heating: | Hybrid (Convection+Conduction) |
| Heat-up time: | 20 seconds |
| Power source: | Battery (2 × 2500 mAh) |
| Temperature: | 37°C to 221°C |
| Manufacturer: | Boundless |
| Warranty: | 2 years |
| Country of manufacture: | China |
Write your own review about Boundless CFX