Features
Newest version (2023.05)
Made of Italian olive wood
No cables or batteries – heated by lighter
Gold-plated copper heating chamber
Protective mineral layer (only Classic version)
Different mouthpiece options
Easy to use – get vapour in under 30 seconds
Unique bowl shape for even heat distribution
Environmentally friendly
Who is the Vapman vaporizer for?
The Vapman brings together elements of traditional Italian craftsmanship with modern Swiss design. The exterior of olive wood stunningly beautiful, and thanks to ingenious craftsmanship it's both efficient and easy to use.
As it is a manually heated vape, all you need is the Vapman, a lighter, and your herbs, which makes it perfect for outdoor activities, especially hiking. If you are looking for a versatile vape that's easy to carry around and prepare, with no batteries or cables, the Vapman vaporizer is perfect for you.
What's the difference between Vapman Classic and Vapman Pure?
The Vapman Classic features a special coating of mica, a completely harmless mineral that has been used for years in cooking, that acts as an effective heat reflector and prevents carbonization of the wood. The coating both increases the efficiency and keeps your Vapman looking as beautiful as the day you got it.
Gold-plated copper heating chamber
The Gold-plated copper heating chamber is shaped to perfection which leads to excellent heat conduction and rapid, even vaporization. The built-in brass nozzles of the heating chamber prevent inhalation of butane gas while delivering fresh air into the chamber.
Made from Italian olive wood
The grip ring encasing the heating chamber is made from olive wood, as it's an environmentally friendly material and comes from Italy where the Vapman is manufactured. Wood has been found to be a perfect material for vaporizers because it absorbs heat and poses no risk, while also being sustainable as well as beautiful!
The sleek design guarantees safe use and comfortable handling; this way you can focus on taking deep breaths without worrying about burning yourself with hot metal or plastic components.
Adjustable vapour density
The centrepiece, which you put on top of the heating chamber and attach the mouthpiece to, is also made of olive wood and has three optimally positioned air holes that provide fresh air. For even denser vapour clouds, cover one or more holes with your fingers.
The screen and heat protection ring are underneath the centrepiece and can easily be removed for deep cleaning.
Available mouthpieces
When buying a Vapman you're also selecting a mouthpiece. Here are the five materials you can choose from:
P.O.M plastic
P.O.M plastic has long been a favourite choice for vape enthusiasts who want to enjoy their hobby without worrying about glass that breaks or other delicate materials that are typically used in mouthpieces. With its durability, easy cleaning properties, and resistance against high temperatures - up until 120°C you can rest assured that your mouthpiece will stand the test of time.
Inox
Inox is a premium stainless steel with an excellent finish. This mouthpiece went through several production steps to achieve this quality which enables optimal cleanability and maximum hygiene for users who want the best of both worlds: easy cleaning without compromising on quality!
Olive wood
Wood is not only an excellent material for the grip and centrepiece, but it's also a great option of material for a mouthpiece. The olive wood mouthpiece impresses with its light weight that allows for an easy to consume the vapour from your Vapman while giving you a great taste experience all at once!
Titanium
The king of metals, titanium, is strong and lightweight. It scores at the highest levels for hygiene while still satisfying all other requirements. Its full beauty can be seen through its optimal surface treatment that matches the design of the Vapman.
Handmade borosilicate glass
Borosilicate glass is a very hygienic material that does not contain harmful chemicals or leave a taste. It neither discolours nor absorbs odours and it is also 100% recyclable! The longer vapour path and cooling properties of the glass means that you get an even more comfortable and cooler vapour.
The borosilicate glass mouthpiece is not included in any kit and has to be bought separately.
How to use the Vapman
Twist the upper part counter-clockwise to access the chamber.
Fill the chamber with herbs (with or without the help of the filling funnel).
Install the upper part again.
Turn the Vapman to the side and use a lighter to heat the golden heating chamber.
After a few seconds, turn it back and enjoy the vapour by inhaling it from the mouthpiece.
The temperature your herbs will be heated to depend on how long you heat the heating chamber. If the vapour feels harsh and hot it means you have heated for too long and if the vapour doesn't have enough taste you can heat a bit more. After some time, you'll get a feeling for your personal preferences of the vapour.
As soon as there is no more taste, you can check the status of your herbs. When the herb colour turns dark brown and they smell rusty, they no longer contain active ingredients and can be removed. 
Environmentally friendly
As the Vapman only uses a lighter for heat, no electrical components or batteries are needed, making it very environmentally friendly! Plus, all parts of the Vapman can be replaced so it will last forever with proper care.
Warranty
All Vapman vaporizers sold by MagicVaporizers, an authorised distributor of Vapman products, are authentic and backed by a 2-year warranty restricted to normal use.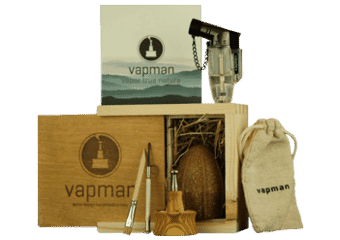 In the Box
Vapman vaporizer
Mouthpiece [P.O.M, Inox, Wood or Titanium]
Filling funnel
Hemp case
Lighter
Cleaning brush
Screwdriver
Wood box
Instruction manual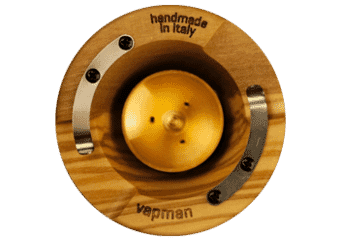 Specifications
More Information

| | |
| --- | --- |
| Size: | 6.2 × 6.2 × 4.1 cm |
| Weight: | 20 g |
| Heating: | Conduction |
| Heat-up time: | 5 to 30 seconds |
| Power source: | Lighter |
| Manufacturer: | Vapman |
| Warranty: | 2 years |
| Country of manufacture: | Italy |
Write your own review about Vapman Vaporizer